OBD Switch Box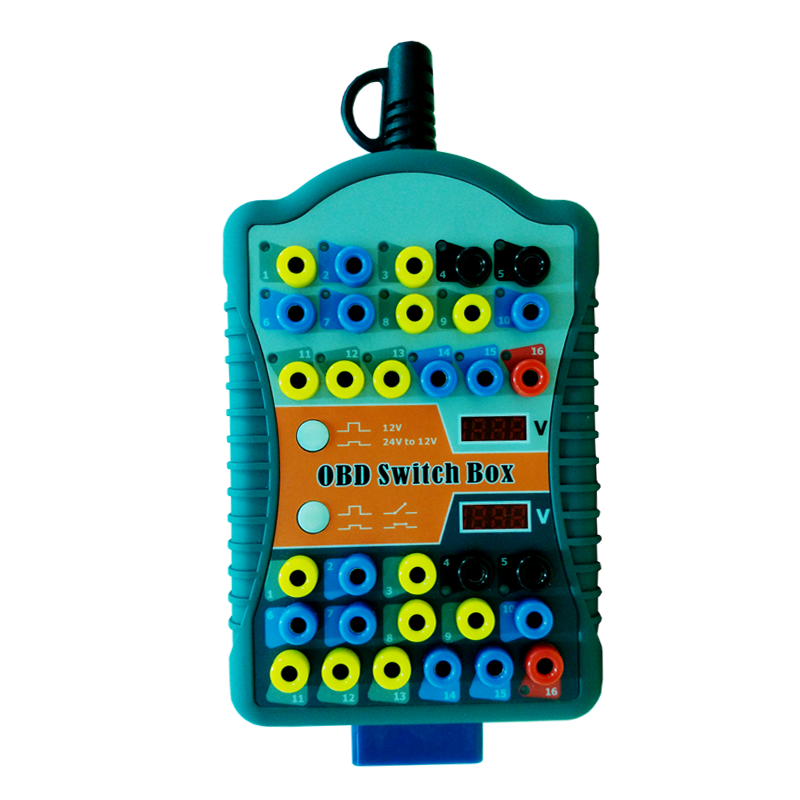 The OBS Switch Box (OSB) is composed of two independent OBD break out boxes with 16 pins OBD male on one end and 16 pins OBD female on the other end.
FEATURES
12V/24V compatible

Display Voltage - detect the incoming voltage. Monitor Voltage During Reflash Programming

LED Signal Display - ECU signal voltages trigger the LEDs to light up.

Detects Communication Protocol - whether PWM J1850, VPW (J1850), ISO 9141-2, DIS/ISO 14230-4, or CAN bus (J-2284)

DC power source - used as power source for external devices that need external power (up to 5 Amperes)
FUNCTIONS
Two Independent Breakout Box - Connect manually by using the stacking banana cables

Interconnect ON / OFF Switch - pins are mounted in parallel and can be connected or disconnected by the ON/ OFF switch button for quick and easy operation.

24V to 12V Converter – converts 24 Volts to 12 Volts, can be used for trucks.

Pin Assignment – can manage the connection by manually selecting input pins to desired output pins.

Check alternator condition - quick reference of voltage charge during idling and high RPM conditions
HARDWARE
4mm Banana Sockets - can be used with lab scopes, multimeter, logic probes, test lights, etc. to read the voltage, resistance, frequency, etc.

1.5m Data Link Connector
OPTIONAL ADDITIONS
Power Source - can be used as a power source for other devices that need external power (up to 5 amps).

OBD Memory Saver – maintain power supply to ECU (for saving data) when replacing a weak car battery.