CANbus Network Tester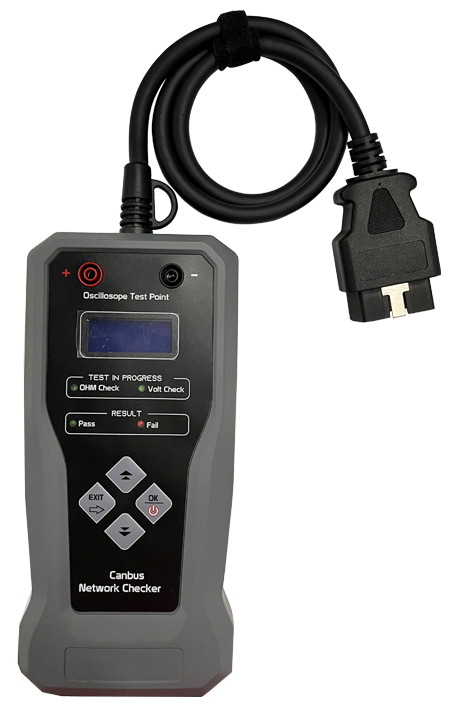 CANbus Network Tester is specially designed to check the line resistance as well as the operating signal voltages of High CAN and Low CAN in a high-speed CANbus system in times of communication problems caused by poor wiring or incorrect resistance terminations.
Its operation is simple and quick that assists Technician in troubleshooting of engine CANbus communication problems.
FEATURES
· Checks the required CANbus line resistance of 60 Ohm (+/- 10% tolerance) resistance with pre-set pin combinations test of [Pin 6 & Pin 14 – default setting], [Pin 1 & Pin 9], [Pin 3 & Pin 11] and [Pin 12 & Pin 13].
· Provides individual pin voltage checks to all the 16 pins at the OBDII-Diagnostic Link Connector (DLC) to ascertain that it operates within its limits.
· Stand-alone unit or able to connect with Breakout boxes that provide female OBDII connector to advance further diagnostic functions.
· It provides oscilloscope test point connections for additional examinations of CAN signal waveforms during troubleshooting diagnosis.
· Easy readout test results with Fault analysis remarks.
· Applicable on 12V / 24V (Cars, Vans, Trucks, Tractors) Battery systems.
HARDWARE
· Ground cable with crocodile clip to be connected to a good vehicle ground.
· BNC to dual Banana plugs test lead - connected to oscilloscope for further examination of CAN signal waveforms during engine troubleshooting diagnosis.
· Cable length of 1.5m with male OBDII plug connection to vehicle's DLC.
SPECIFICATION
· Screen – (128 x 64 pixels) monochrome LCD Display
· Ohms measurement range - 1,000 (1.0K) Ohms (max)
· Ohm Resolutions - 0.1 Ohm
· Volts measurement range - 40 Vdc (max)
· Volt Resolution - 0.01 Vdc
· DC Volts Accuracy - ± 3% Reading
· Working Temperature - 0ºC (32°F) ~ 50ºC (122ºF).
· Power supply (Internal Batteries) - 6.0 VDC (1.5V x 4pcs AAA Dry Cells)