Car & Truck Diagnostic Box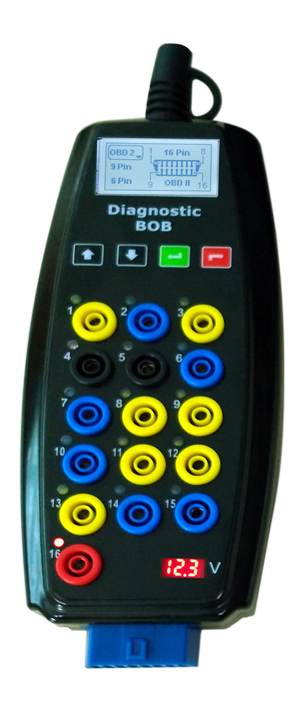 When the scan tool fails to establish communication with a vehicle, the OBDII system seems not responding, or a CAN-Bus system related fault code is registered, you need to begin testing at the communication link.

The Car & Truck Diagnostic Box is a tool which connects to a vehicle's OBDII connector and is used to easily diagnose electrical faults and CAN bus line activity.
It detects data and protocol communication and monitors system voltage with a display and high/low alarm.
Check power and ground circuits, check active protocol lines, or connect a multimeter or oscilloscope for detailed signal analysis. Check and monitor battery voltage; Continuous numeric display of voltage; Alarm warning when voltage drops below 11.9v for 12V and below 23.8V for 24V battery, the beeper will sound. The same goes for detected high charge voltage of 15V for 12V battery and 30V for 24V battery
The concept of this Car & Truck Diagnostic Box is simple - it provides standard banana plug connection points to all lines in the J1962 OBDII connector, which allows connection to individual lines on an OBDII connector easily and securely.
There are four main types of diagnostic ports, 6-pin (J1708), 9-pin (J1939) type 1 & 2, and OBDII's.
Generally light and medium duty trucks use OBDII ports whereas heavy duty trucks use 6-pin or 9-pin ports.

It supports the following vehicles' DLC:
· OBDII – 16 pins connector:
Chrysler (Type A, B & C), Ford Truck, General Motors, Volvo Truck, SAE J1962 and ISO 15031-3 (Type A & B).
· Deutsch – 9 pins connector:
Paccar, Freightliner Cascadia, Deutsch J1939 and Type 2 (500K Baud Rate)
· Deutsch – 6 pins connector:
J1708 / J1587 HD
First, determine the connector type of the vehicle (16 pin, 6 pin, or 9 pin).
Install the desired cable on to the Diagnostic Breakout Box.
For direct connection to the Break Out Box:
i. If the vehicle has a 16-pin data link connector, no additional cable is required.
ii. If the vehicle has a 6 or 9 pin data link connector, use the appropriate cable and install on the Diagnostic Breakout box cable end.
By using this Car & Truck Diagnostic Box, mechanic can analyze engine problems based on Vehicle Repair Manual through readings that are being displayed on the Multimeter or oscilloscope easily.
Due to the types of vehicle e.g. cars, trucks, tractor, etc. and different vehicle manufacturers and various models, the Diagnostic Link Connector (DLC) of the vehicle can be connected through an OBD2 -16 pin or 9 pin (J1939) type 1 or type2 or 6-pin (J1708) connector to perform the diagnostic tests.
To display its pin-out designations of the easy reference during diagnosis, the Breakout Box comes with LCD display that can choose the vehicle manufacturers for their Pin standard to show its Pin-out designations.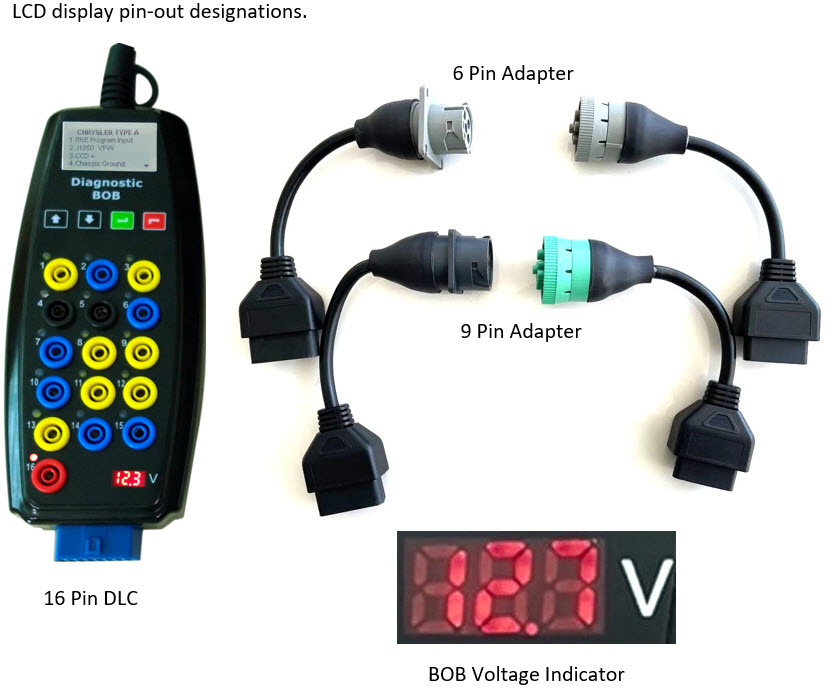 Extra Features
Breakout Box connect to Oscilloscope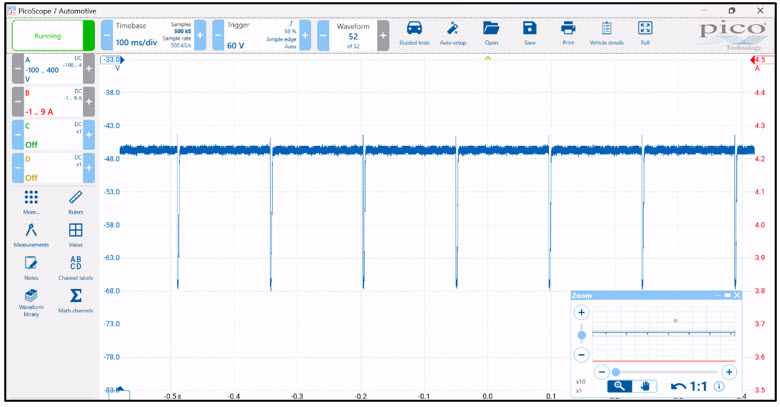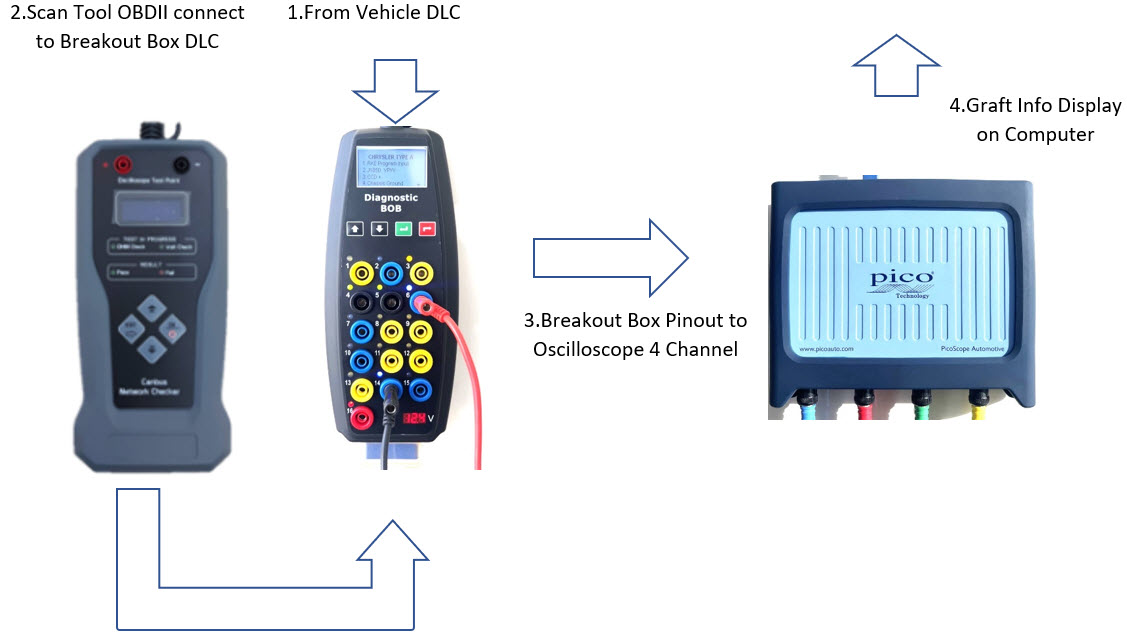 FEATURES
· 12V/24V compatible
· Displays different Vehicle Manufacturers and its pin-outs designations
· Digital LED Voltage display - detect the incoming voltage.
· LED Signal Display - ECU signal voltages trigger the LEDs to light up.
· DC Power Source - as power source for other devices that need external power (up to 5 amperes )
· with reverse polarity and overload protection with self recovery fuse
FUNCTIONS
· Auto detect communication Protocols
· Monitors Data Stream
· Voltage Low Alarm Beeps - detect voltage below 11.9V for 12V battery and 23.8V for 24V battery.
· Voltage High Alarm Beeps - detect high charge voltage of 15V for 12V battery and 30V for 24V battery.
· Checks alternator condition - quick reference check of voltage charge during idling and high RPM conditions.
· As Break-out Box function - can check voltage, resistance, frequency, pulse width or duty cycle using lab scopes, multimeter, logic probes and etc.
· OBD Memory Saver – maintain power supply to OBD system when replacing weak battery
· OBD2, 6 Pins or 9 Pins Selection
HARDWARE
· 4mm Banana Sockets
· LCD Display
· 1.5m Data Link Connector
OPTIONAL ADDITIONS
· Replaceable Face Plate
· Y Cable
· LED Indicator Voltage Status